MADOC C.O.P.E. CORPORATION
CONSTRUCTIVE OPPORTUNITIES FOR PROGRESSIVE EMPLOYMENT
Welcome to Madoc C.O.P.E. Corporation. We are funded in part by the Ministry of Community and Social Services, and revenue generated by vocational services on site and within the local community.

We hope that the information contained in this site is informative. The family of people portrayed in the following literature and photos, is just a glimpse of the commitment of both staff and the board members alike. We are not only a day program that provides excellent support, nurturing and heartfelt commitment, we are a group of professionals who have dedicated our adult lives to serving and caring for adults with developmental disabilities.

We provide cutting edge programs, with a wide variety of expertise and knowledge.
So please take a look and enjoy the life accomplishments, and remember a picture is worth a thousand words.

Let us know how we're doing!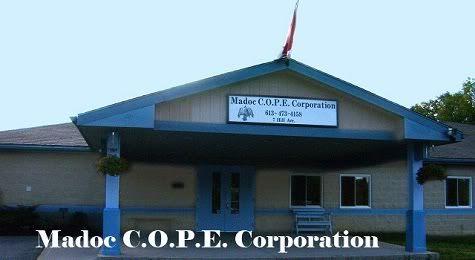 Madoc C.O.P.E. Corporation
7 Hill Avenue
Box 616
Madoc, Ontario, Canada
KOK 2KO