Visitor Information Booth>
Visitor Information Booth
The Centre Hastings Visitor Information Booth is here to help you enjoy everything we have to offer in Centre Hastings!
The tourism booth operates from Victoria Day Long Weekend to Labour Day Weekend.
Open :
Monday - Friday              3 pm to 7 pm
Saturday - Sunday          9 am to 7 pm
Open :
Monday - Sunday             9 am to 7 pm
Open :
Monday - Friday              3 pm to 7 pm
Saturday - Sunday          10 am to 7 pm

Visitor Information Booth
Located at the Centre Hastings Park at 24 Seymour Street in Madoc. Our excellent staff will be happy to help you with tourism advice and local knowledge. We have maps, brochures and business cards from our local area for you to take away. We also sell excellent local ice cream in a multitude of flavours and offer free WIFI.
If our Visitor Information Booth is closed, you can also stop in at the Municipal Office at 7 Furnace Street on Monday through Friday and the staff will be happy to assist you.
Stop by and say hello, we can't wait to meet you!
Centre Hastings Tourism Brochure 
Our new brochure highlights some of Centre Hastings's best parks and destinations! There are so many remarkable things to do that you do not want to miss!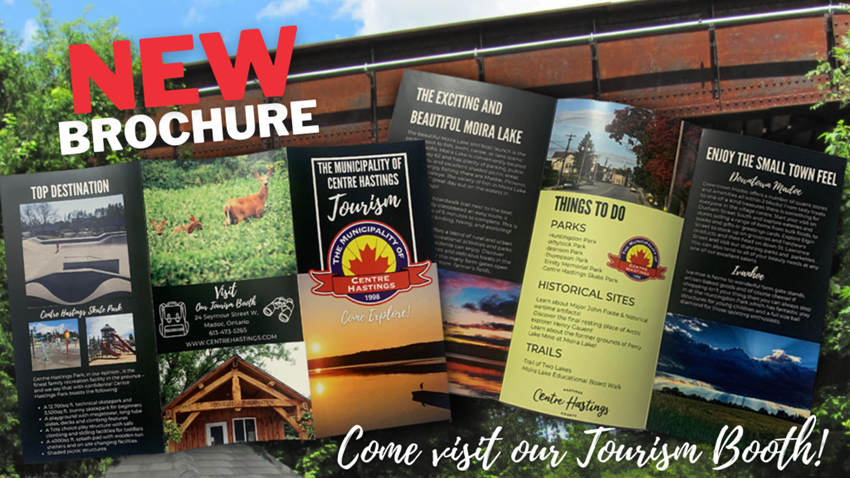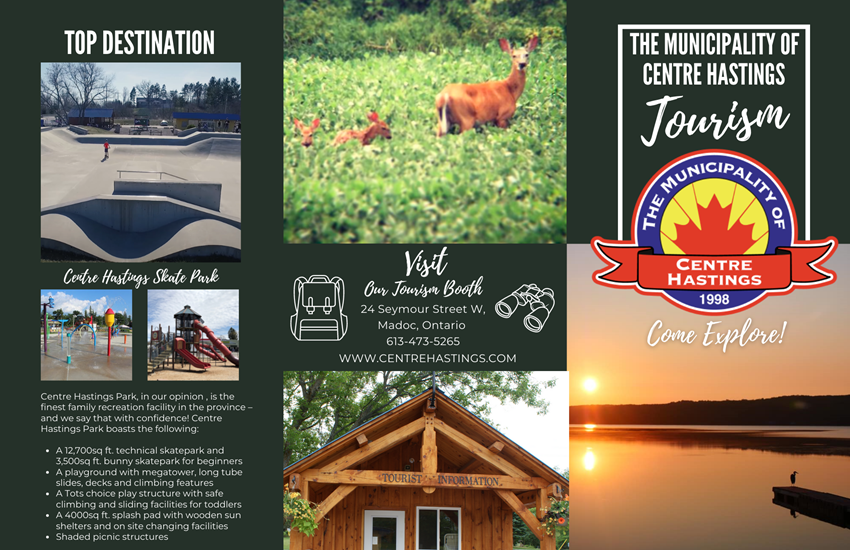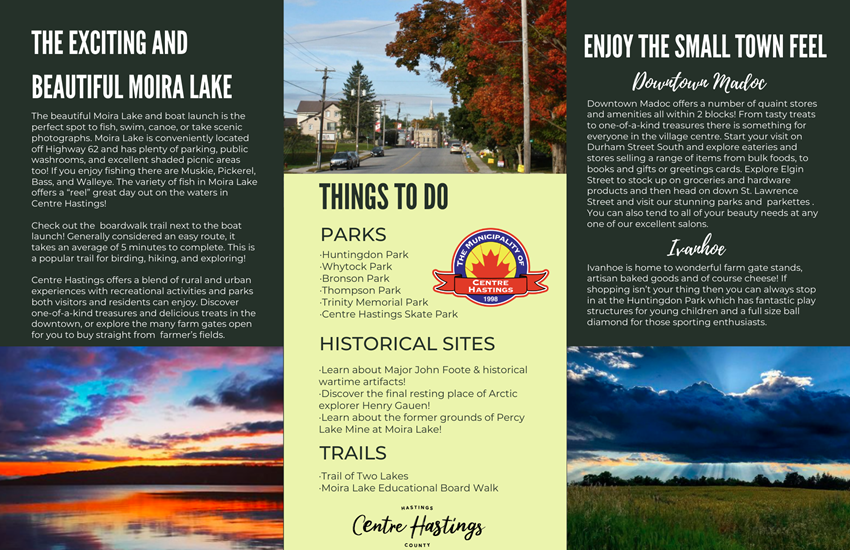 Virtual Tourism
Perhaps one of the most fascinating things about Common Loons is their haunting and variable voice. Loons are most vocal from mid-May to mid-June. They have four distinct calls, which they use in varying combinations to communicate with their families and other loons.
These are the tremolo, wail, yodel, and hoot. The tremolo sounds like a crazy laugh and is used for a variety of purposes, such as to signal alarm or worry and to denote annoyance or greeting.
We are so fortunate to see and have these beautiful birds on Moira Lake and our local waterways!
Centre Hastings is the home to Moira Lake which is a popular spot for local and out-of-town visitors year-round. Moira Lake sunsets and sunrises are breathtaking and an experience you won't forget!
Moira Lake is the location for your recreation needs and the perfect destination, for canoeing, kayaking, and boating!
Moira Lake is a recreational fishing destination with a variety of fish, including largemouth bass, walleye, northern pike, musky, perch, catfish, rock bass, longnose gar, bluegill, and smallmouth bass.
Come to the Municipality of Centre Hastings and visit the world renowned Moira Lake!